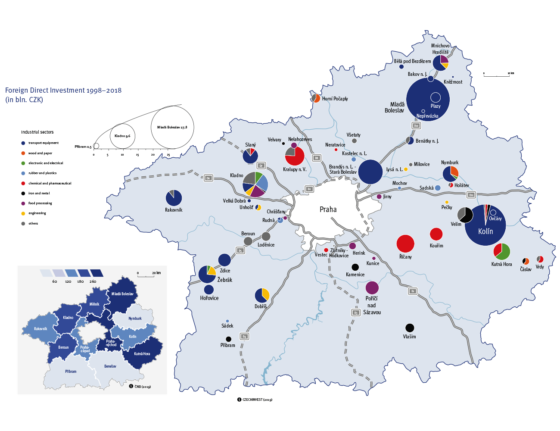 Foreign Direct Investment (FDI)
has been one of the main driving forces of the growth and modernisation of the Czech economy. This also applies to the Central Bohemia Region, which has long been open to foreign investors, mainly in the manufacturing industry. The largest influx of foreign investment took place around 2000, though their volume remained significant in the regional economy in the following years. This is evidence of the high attractiveness of the region and its ability to offer appealing business opportunities to foreign investors.
Concentration of foreign companies
Territorially, the clear dominants are the areas surrounding Prague and the Mladá Boleslav District, which have the highest concentration of foreign companies. In contrast, the southern part of the region and Rakovník and Nymburk Districts have relatively lower investment due to the absence of a major economic centre and a smaller industrial tradition.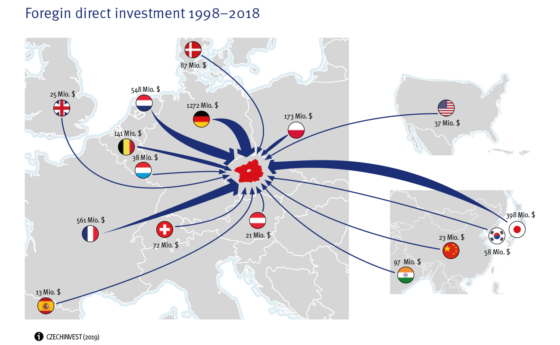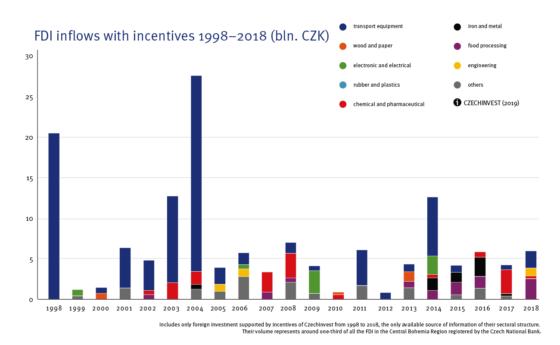 Incomer FDI
The automotive industry leads the fields receiving foreign investment, and not only in Mladá Boleslav and Kolín and their surrounding areas, which are the main centres of the producers of motor vehicles and their subcontractors, but also along the D5 motorway to Pilsen.
In the other parts of the region, FDI specialisations are diverse and distributed according to the local conditions, but they are often linked to the history of the industry in each given area.
Companies from Germany most often invest in the region. They account for about 12% of all foreign investment supported by CzechInvest. They are followed by companies from France, The Netherlands, Poland and Belgium. Investors from Japan, India and South Korea are also coming to the region in significant numbers.
The nature of the activities of foreign investors has also been changing gradually. Instead of production and assembly, activities in the fields of design, research and development are increasing. The goal for the future is to attract foreign companies that will invest in these activities with high added value that create high-quality jobs.