R&D and innovation in the region
Research and Innovation Strategy for Smart Specialisation (RIS3)
Research centers and career opportunities
Information on grant programs
In terms of R&D activities, Central Bohemia is among the leading regions of the Czech Republic. This position has been so far based primarily on business activities in the R&D, which is mainly in contrast to the capital city of Prague, where the academic sphere is the key component of the R&D activities. Central Bohemian Region is basically the only one among the Czech regions approaching the often by the EU of 2% expenditures (business-funded) on R&D in the GDP. Together with Prague, it represents a core of knowledge activities in the Czech Republic.
In terms of the volume of institutional support for R&D, Central Bohemia is placed third among all the regions after Prague and South Moravian Region. Also in terms of the volume of specific grants, Central Bohemia was third after Prague and South Moravian Region.
Other growing potential sectors making an entrance in innovation are pharmaceutical and optic production followed up the importance of research infrastructures, such as BIOCEV, ELI Beamlines and Hilase.
Foreign nationals engaged in research activities in the different research centers and laboratories in the region represent more than 20 countries. Creating a circulation of knowledge and a transformation toward a global community.
Relevant data in Science and Research:
R&D personnel total in Prague and Central Bohemia 2016
Czech Republic: 65,783
Prague: 22,046
Central Bohemia:  6,881
---
Source: Statistical Yearbook Central Bohemia, CSU, 2016
Researchers in Prague and Central Bohemia 2016
Czech Republic: 37,388
Prague: 13,483
Central Bohemia: 3,205
---
Source: Statistical Yearbook Central Bohemia, CSU, 2016
Patent activity in Central Bohemia 2016
Patent applications, total:  92
submitted by private enterprises: 60
Patents granted, total: 48
to private enterprises:  40
Patents valid as at 31 December, total: 253
of private enterprises: 211
---
Source: Statistical Yearbook Central Bohemia, CSU, 2016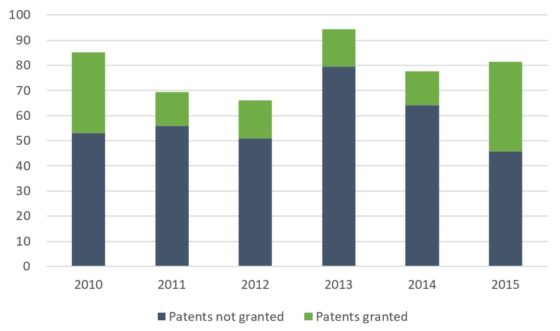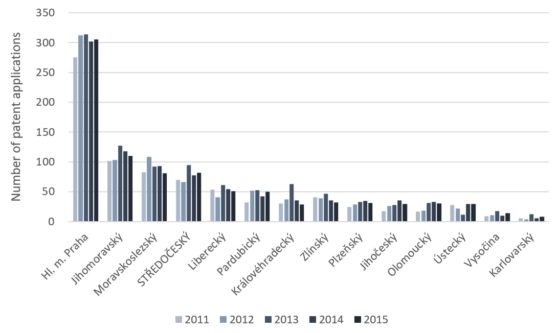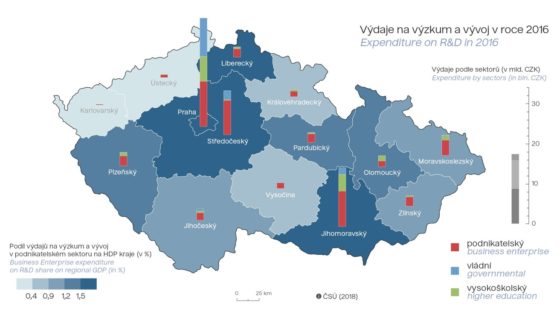 Research and Innovation Strategy for Smart Specialisation (RIS3)
What is RIS3?
It is designed as a 'living document', which is regularly completed and up-dated based on issues arising from its practical application within the EU Regional and Cohesion Policy. It represents in a compact form some main delivery instruments that could be used to implement smart specialisation strategies.
In the case of the Czech Republic, such a strategic document is the National RIS3 Strategy. In each region, regional RIS3 strategies are implemented that take into account the specificities of the local innovation ecosystem and economic specialization and redefine the priority areas set at national level.
Central Bohemian Region RIS3 Strategy
It represents a long-term plan to increase the competitiveness of the Central Bohemian Region based on innovation and the use of research capacities for economic growth. The purpose of the RIS3 Strategy of the Central Bohemian Region is to create suitable conditions and environment for the development of entrepreneurship based on innovation and high added value. Specific interventions and projects in key areas of change will be targeted to this end.
Key areas of change and priority areas of RIS3
The updated RIS3 Strategy of the Central Bohemian Region (February 2018) considered megatrends in social and technological changes and with the participation of partners from the private, research and public sphere. Four basic areas of change were identified:
Key Area of Change A: People for Innovation
Key Area of Change B: Competitive and Innovative Businesses
Key area of change C: Quality public research and its contribution to regional development
Key Area of Change D: Innovation in Public Space
A list of planned strategic interventions, including other information, will be the subject of the RIS3 Action Plan, which will be prepared for a two-year period, the next one 2019-2020 period.
Council for Competitiveness of Central Bohemian Region
It's an advisory body to the Council of Central Bohemia Region in support of innovative entrepreneurship, science and research in the Central Bohemian region. Among the members of the Council for Competitiveness are important representatives from innovative companies, important academic bodies operating in the region, regional government and support organizations active in the field of innovation in the Central Bohemian Region.
S3 Platform
At European level, the S3 platform was established in 2011 following the Communication "Regional Policy contributing to smart growth in Europe 2020", its role is to provide information, methodologies, expertise and advice to national and regional policy makers, as well as promote mutual learning, trans-national co-operation and contribute to academic debates around the concept of smart specialization. Central Bohemia Region is part of the S3 platform since 2016.