Welcome Office
Služby pro zahraniční investory
Jednou z významných priorit SIC je asistence investorům do výzkumu a vývoje ve Středočeském kraji. Jedná se jednak o přípravu komplexu služeb, které mají napomoci investorům při směřování investic do znalostně náročných oborů středočeské ekonomiky, a současně o vytvoření nabídky informací v oblasti propojení s potenciálními dodavateli a partnery v kraji, přípravu komplexního zázemí a služeb pro zahraniční experty a jejich rodiny, což odpovídá poptávce široce identifikované mezi zahraničními subjekty působícími v ČR.
Mezi prvními subjekty, se kterými SIC řeší oblast lákání investorů, vzájemné spolupráce při výměně souvisejících informací, stejně jako přípravu synergických projektů, je Chengdu Shengua Science and Technology Enterprise Incubator (Sečuán, Čína), stejně jako Jerusalem Development Authorities (Izrael), BDO a Economic Development Office of Tel Aviv Global.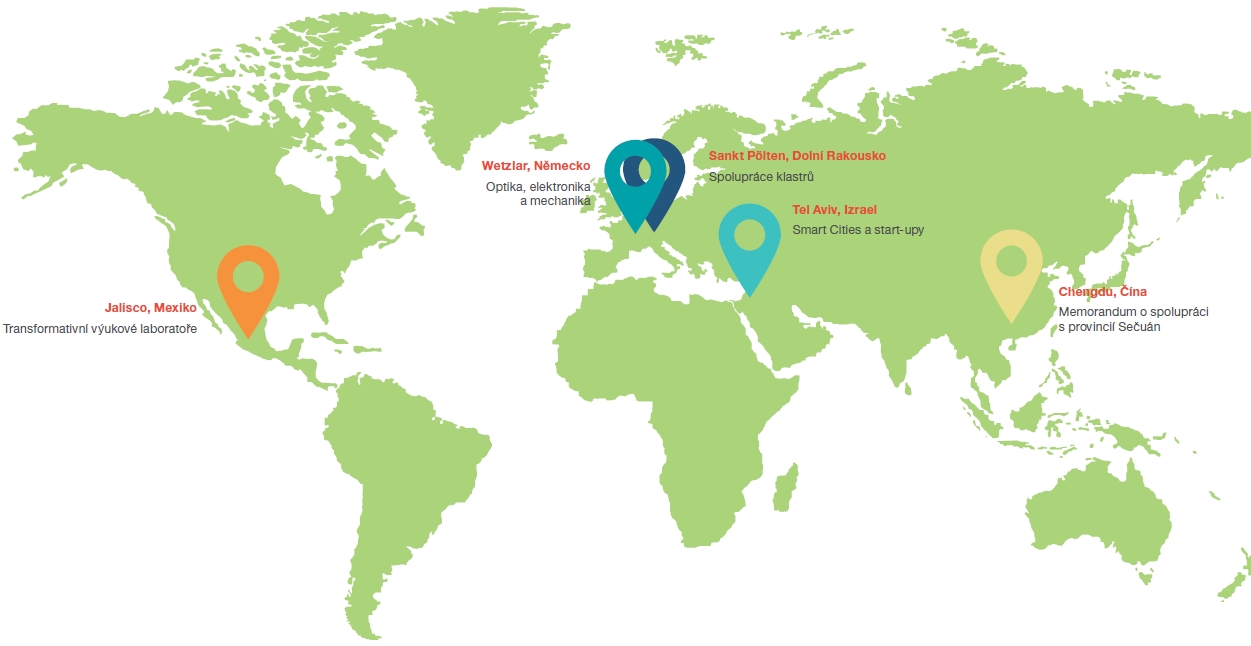 SIC is proud to introduce Central Bohemia Region context and be the reference point for our growing global community and those who would like to work in the research centers located in our region.
Our Welcome Office services are targeted towards faculty or staff, professors, visiting researchers, post docs, and doctoral candidates coming to Central Bohemia from abroad. SIC is here to support you and connect you to the right resources.  
SIC can assist you and your family in administrative affairs and answer any questions concerning everyday life in Central Bohemia Region.
We cooperate closely with other organisations, offices like local authorities, partner institutions and local networks to bring the most relevant information for you.
Introduction to Central Bohemia
economic conditions
living conditions
housing characteristics
way of life
social security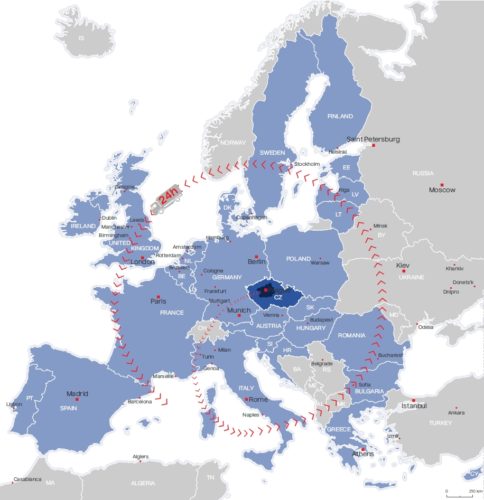 Central Bohemia Region
Central Bohemia Region is one of the 14 administrative unit of the Czech Republic, which was established in July 1, 1960 according to the Act no. 36/1960, "On the territorial division of the state", and since January 1, 2000 is an autonomous local government, same year when the first elections were held. In comparison with other regions it does not have its regional office seat located in its own territory but in the capital city of Prague (which has the status of independent region).
Central Bohemia Region is the largest region in the country with an area of ​​10,928 (2016) square kilometers that makes up almost 14% of Czech Republic and is also the most populous in the country with a total of 1.3 million inhabitants (the most populated district is Prague-East with 167,851 inhabitants). Population of the region is increasing mainly due to suburbanization – migration from other regions and from Prague to districts surrounding the capital, constituting to some extent the metropolitan background of the capital city.
Central Bohemia it's made up of 1,145 municipalities spread among its 12 districts: Benešov, Beroun, Kladno, Kolín, Kutna Hora, Melník, Mlada Boleslav, Nymburk, Prague-East, Prague-West, Přibram and Rakovník. The highest number of municipalities is concentrated in the Příbram District (121), and the smallest number of municipalities are in Melník district (69). The five largest cities in the region include Kladno, Mladá Boleslav, Příbram, Kolín and Kutná Hora (CSU, 2016)
Demographic development of the region started to distinctively change in the second half of the 1990s, mainly thanks to construction of satellite settlements in the environs of Prague. The population has been constantly increasing and it is mainly internal migration, which contributes to the population increase. A big amount of especially young people moved into the region setting up their families there due to the good location of the region. Thanks to that, the natural decrease has gradually dropped and starting in 2006 more children are born in the region than there are deaths. The region was the youngest in the Czech Republic as for its average age of the population, which was 40.8 years in 2015. Nevertheless, a nationwide trend of the population ageing affected the region and from 2015 persons aged 65+ years started to prevail in their number over children aged up to 14 years.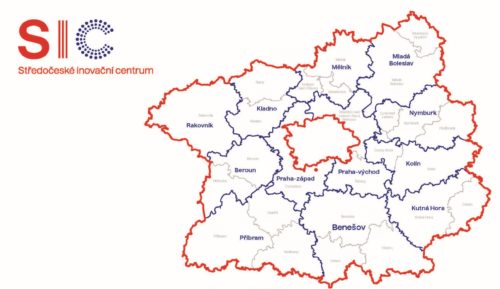 The location of Central Bohemia Region and the close ties with the capital city of Prague significantly affects its economic characteristics. Central Bohemia Region is an important source of labor for Prague as well as it complements Prague's industry, supplies Prague with food and offers an enormous variety of recreational opportunities as is the home to many historical monuments and protected landscape areas.
Economic conditions
The economic performance of the Central Bohemian Region ranks among the best in the long term when compared with the other regions of the Czech Republic. It has the second highest share (10%) in the GDP in the regional comparison (right after Prague). It can be characterised as industrial and agricultural with low level of diversification of industries (with high importance of automotive industry) and with a significant impact of the capital city of Prague. The region belongs to the main powerhouses of the Czech economy,
According to Eurostat, among the Member States, the lowest unemployment rates in February 2017 were recorded in the Czech Republic (3.4 %), Germany (3.9 %) and Malta (4.1 %). The highest rates were observed in Greece (23.1 % in December 2016) and Spain (18.0 %). For Central Bohemia, the average value is 3%.
There is an evident significant predominance by the manufacture of motor vehicles (which is the main economic specialization of the region), ŠKODA AUTO is of national importance, but a dynamic growth in manufacture of computers, electronic and optical instruments and equipment is steadily increasing. Areas where considerable potential for research, development and innovations are concentrated.
Among other important sectors are manufacture of food products, chemical substances and chemical preparations, machines and equipment and manufacture of rubber and plastic products which are often linked to customers in the automotive industry.
Agriculture benefits from excellent natural conditions in the northeastern part of the county, the county excels mainly in plant production – cultivation of wheat, barley, sugar beet, potatoes, the suburban parts of fruits, vegetables and ornamental plants. Develops energy crops, especially oilseed rape.
The region is significantly involved in the global economy by means of foreign trade – predominantly to the West European markets (first trade partner is Germany). Central Bohemia is the region with the second highest export performance in the country, from this perspective, it is necessary to point out that the automotive industry contributes to the high export dependency (products from the automotive value chain account for almost 50% of export).
The influx of foreign direct investments (FDI) in relative terms (per capita) is the second highest (after Prague). An important trend is a growing intensity of FDI influx to the region thanks to 'localization factors' and excellent transport connections. It clearly ranks among the most successful regions, together with Prague.

Living conditions
According to "Living Conditions 2015" of the Czech Statistical Office (CSU) Central Bohemian income households is the second highest among the regions. The annual net income per household member in Czech Republic is CZK 157,600 (5,833 EUR approx.) in Central Bohemia Region this figures goes up to CZK 168,500 (6,236 EUR approx.), higher than the national average and second highest after household in Prague.

Annual average net income per capita of households in 2014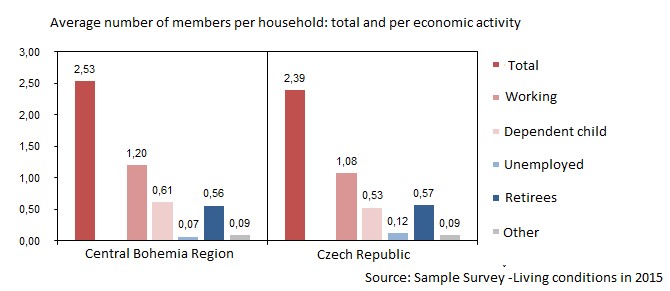 CSU: Standard methodology comparable with other EU countries
Housing Characteristics
The level of housing is one of the basic indicators of living standards. More than half of households in the region (53.3%) lived in their own house, namely due to the fact that there is a higher proportion of dwellings in family houses than in most other regions.
In Central Bohemia, housing surface area are above national average. In 2015, the average living space per person in Central Bohemia was approximately 34.3 square meters, 0.7 square meters above than in the whole country. Most households have 3 rooms (34.6%) and a total area of 60-80 m2 (29.3%). In 2014, housing utilities amount a monthly average of 5,311 (196 EUR approx.), which represented 15% of net income of the entire household. This was 2.7 percentage points less than the national average (17.7%).
The highest item of expenditure on housing utilities was electricity charges, these charges were a monthly average of CZK 1,764 (66 EUR) represented a third of the expenditure for housing and the county is highest. Other monthly fees associated with housing have generally been below one thousand crowns and generally have lower than the national average.
2015

CZK

EUR

Housing costs, total
(per month per household)

5,311

200

 

rent

922

35

electricity

1,764

66

gas (from a gas grid)

863

32

heat and hot water

550

water supply and sewerage collection

460

21

solid and liquid fuels

456

17

other utilities

297

11

Housing costs as percentage of net income

15.0
Source: Statistical Yearbook Central Bohemia, CSU, 2016
 Cost of living in Central Bohemia
Rent
As anywhere, rental costs vary depending on the area, location and quality of the accommodation. Often there are differences between rents for similar flats in the same location, for this reason looking around will pay off.
In cities like Dolni Brezany (where two of the most important research institutes are located) the rents start at about 10,000 CZK (1+1/1+kk). When you agree to rent a flat or house, is common that you will have to pay 1 to 2 month's rent in agency fees (if you decided to use their services) plus the deposit.
Type of housing
There are different types of advertisement for housing, this is an overview:
1 + 1 One-bedroom flat. The other room would usually be a kitchen.
1 + kk One-bedroom flat. KK stands for a miniature kitchen
1 + 0 This term may be used as synonym for 1 + kk. However, most of the time it describes one room only.
2 + 1 (3 + 1, 4 + 1, …) This is a flat with two rooms and a kitchen (or three or four rooms respectively). A bathroom included.
Panelaks:  block apartments, type of building built between 1950-1990. The condition of their interior may vary greatly.
Houses: Houses to rent are more likely to be found outside of Prague. They tend to have very thick concrete walls and small rooms, rather than fewer larger ones.
If you would like to know more about the housing in Czech Republic, you can find it in this information brochure for foreigners prepared by the Ministry of Labor and Social Affairs in cooperation with the Ministry of Interior of the Czech Republic (www.cizinci.cz)
You can visit the different cities in Central Bohemia and get a feel for the location of an individual property.
As for cost of living, in this website you can find an estimate of the cost of living in some of the cities in Central Bohemia, such as Kladno, Nymburk and Mlada Boleslav and you can compare them with Prague.
Restaurants
Markets
Transportation
Utility
Sport and Leisure
Childcare
Clothing
Rent
Buy an apartment
Salaries
https://www.numbeo.com/cost-of-living/in/Kladno-Czech-Republic?displayCurrency=EUR

Way of life
Central Bohemia is considered the natural centre of the Czech Republic with many attractions to make it the perfect getaway weekend or holiday. There are many important and historically valuable sights and several Protected Landscape Regions. The biggest concentration of historical buildings and monuments is in the town of Kutná Hora (Cathedral of St Barbara, Italian Court, Hrádek – Czech Museum of Silver and medieval silver mine, Ossuary and Cathedral of the Assumption of Our Lady and St. John the Baptist), which was added to UNESCO's World Heritage List.
There are 34 urban conservation zones in the region and 29 national cultural monuments. The most famous castles are Karlštejn and Točník in Beroun area, Křivoklát in Rakovník area, Český Šternberk in Benešov area, and Kokořín in Mělník area. The most interesting castle ruins are Žebrák in Beroun area and Okoř in the Praha-západ District. The most important chateaux are Konopiště in Benešov area, Žleby and Kačina in Kutná Hora area, Loučeň in Nymburk area, Lány in Rakovník area, castles Mělník and Nelahozeves in Mělník area. One of the most important places of pilgrimage in Bohemia is Svatá Hora in the town of Příbram.
Among the most frequently visited museums in the Region are: ŠKODA Museum in Mladá Boleslav, Mining Museum in Příbram, and Czech Museum of Silver in Kutná Hora; among monuments it is Lidice Memorial near the town of Kladno.
The most valuable natural area of the region is the Křivoklátsko protected landscape area, which is one of biosphere reserves of UNESCO; among other important areas are Český kras (the Bohemian Karst) protected landscape area, Český ráj (the Bohemian Paradise), Blaník and Kokořínsko (the area of a Czech well-known poet Karel Hynek Mácha). As at 1 January 2016, a new protected landscape area of Brdy was established on the territory of an abolished military training area. The territory of the former military training area was re-allocated to adjacent municipalities of the Central Bohemia Region and the Pilsen Region; thus, the total area of Central Boemia decreased by 87.9 km2 less compared to the status as at the end of the year 2015 (11,015 square kilometers).
Social security
The Czech social security system is built on three pillars. The first pillar is compulsory social insurance, which covers sickness benefits, unemployment benefits and pension insurance. The second pillar is state social support, covering the cost of subsistence and other basic personal needs of children and families. The third pillar is the social assistance provided to people in need.
Health insurance is compulsory for anyone who resides permanently or is working for an employer located in the Czech Republic. You can find more information about social security in Czech Republic here.
Research and Innovation Strategy for Smart Specialisation (RIS3)
Research centers and career opportunities
Information on grant programs
R&D and innovation in the region
In terms of R&D activities, Central Bohemia is among the leading regions of the Czech Republic. This position has been so far based primarily on business activities in the R&D, which is mainly in contrast to the capital city of Prague, where the academic sphere is the key component of the R&D activities. Central Bohemian Region is basically the only one among the Czech regions approaching the often by the EU of 3% expenditures (business-funded) on R&D in the GDP. Together with Prague, it represents a core of knowledge activities in the Czech Republic.
In terms of the volume of institutional support for R&D, Central Bohemia is placed third among all the regions after Prague and South Moravian Region. Also in terms of the volume of specific grants, Central Bohemia was third after Prague and South Moravian Region.
Other growing potential sectors making an entrance in innovation are pharmaceutical and optic production followed up the importance of research infrastructures, such as BIOCEV, ELI Beamlines and Hilase.
In 2016, an extraordinary group of individuals represented more than 20 countries and engaged in research activities in the different research centers and laboratories in the region. Creating a circulation of knowledge and a transformation toward a global community.
Relevant data in Science and Research:
             R&D personnel by region

 

          Full-time equivalent (FTE)

 


CR, Region

Total

 
 

2011

2012

2013

2014

2015

 


Czech Republic

55,697

60,329

61,976

64,443

66,433

 

Prague

20,994

21,810

23,243

23,203

23,445

 

Central Bohemia

5,557

5,549

5,698

5,698

6,213

 
Source: Statistical Yearbook Central Bohemia, CSU, 2016
Researchers by region

 
 
 
 
 
 
 
 


CR, Region

Total

 
 

2011

2012

2013

2014

2015

 


Czech Republic

30,682

33,217

34,271

36,040

38,081

 

Prague

12,395

12,540

13,637

13,580

13,854

 

Central Bohemia

3,072

3,102

3,073

3,041

3,504

 
Source: Statistical Yearbook Central Bohemia, CSU, 2016
           

 Exports of technology by region

CZK million


CR, Region

Total

By group of receipt items in 2015

2011

2012

2013

2014

2015

Computer services

Architectural, engineering and other technical services

Research and development

Royalty and licence fees


Czech Republic

53,868

64,693

71,250

81,308

89,557

56,091

16,344

13,670

3,451

Prague

30,873

35,570

39,274

44,239

49,324

38,430

4,098

4,542

2,253

C.Bohemia

2,087

2,522

2,267

8,625

7,270

1,898

1,237

3,342

792
Source: Statistical Yearbook Central Bohemia, CSU, 2016
Patent activity of domestic
entities in the Czech Republic

2015

Patent applications, total

81

submitted by private enterprises

51

Patents granted, total

36

to private enterprises

30

Patents valid as at 31 December,
total

222

of private enterprises

183
Source: Statistical Yearbook Central Bohemia, CSU, 2016
Research and Innovation Strategy for Smart Specialisation (RIS3)
What is RIS3?
It is designed as a 'living document', which is regularly completed and up-dated based on issues arising from its practical application within the EU Regional and Cohesion Policy. It represents in a compact form some main delivery instruments that could be used to implement smart specialisation strategies.
In the case of the Czech Republic, such a strategic document is the National RIS3 Strategy. In each region, regional RIS3 strategies are implemented that take into account the specificities of the local innovation ecosystem and economic specialization and redefine the priority areas set at national level.
Central Bohemian Region RIS3 Strategy
It represents a long-term plan to increase the competitiveness of the Central Bohemian Region based on innovation and the use of research capacities for economic growth. The purpose of the RIS3 Strategy of the Central Bohemian Region (2014) is to create suitable conditions and environment for the development of entrepreneurship based on innovation and high added value. Specific interventions and projects in key areas of change will be targeted to this end.
Key areas of change and priority areas of RIS3
During 2017, the RIS3 Strategy of the Central Bohemian Region will be updated with the participation of partners from the private, research and public sphere. They will participate in formulating the objectives of the Strategy and the design of specific projects and its implementation that will form the basis of the RIS3 Action Plan.
Council for Competitiveness of Central Bohemian Region
It's an advisory body to the Council of Central Bohemia Region in support of innovative entrepreneurship, science and research in the Central Bohemian region. Among the members of the Council for Competitiveness are important representatives from innovative companies, important academic bodies operating in the region, regional government and support organizations active in the field of innovation in the Central Bohemian Region.
Document RIS 3 strategy Central Bohemia Region – SČK_RIS3_krajská příloha_final-ENG-final
S3 Platform
At European level, the S3 platform was established in 2011 following the Communication "Regional Policy contributing to smart growth in Europe 2020", its role is to provide information, methodologies, expertise and advice to national and regional policy makers, as well as promote mutual learning, trans-national co-operation and contribute to academic debates around the concept of smart specialization: http://s3platform.jrc.ec.europa.eu/s3-guide
Central Bohemia Region is part of the S3 platform since 2016: http://s3platform.jrc.ec.europa.eu/regions/CZ02/tags/CZ02?rel=1
Information on grants programs
To know more about funding instruments from national institutions and administered by them or from the European Union, please visit:
http://www.czech-research.com/rd-funding/
Research mobility assistance
EURAXESS Czech Republic portal contains practical advice concerning information on job and funding opportunities, as well as, information on how to plan and organize your move to Czech Republic.
https://euraxess.ec.europa.eu/

STAR
At the Czechinvest 9th annual contest (2017) "Cities for business", Central Bohemia was recently awarded within a new category as the most "Attractive region for investment", for the joint project of Dolní Břežany, Hodkovice and Vestec and STAR CLUSTER (Advanced Science and Technology Region). This award evaluated the access to quality education in primary schools, business infrastructure and business support. Furthermore, these are the research within the science & research cluster:
BIOCEV
A joint project of six institutes of the Academy of Sciences of the Czech Republic (Institute of Molecular Genetics, Institute of Biotechnology, Institute of Microbiology, Institute of Physiology, Institute of Experimental Medicine, and Institute of Macromolecular Chemistry) and two faculties of Charles University in Prague (Faculty of Science and 1st Faculty of Medicine). The project's goal is to establish European Centre of Excellence in biomedicine and biotechnology. http://www.biocev.eu/en/about/
Job and career opportunities: http://www.biocev.eu/en/category/job-opportunities/
ELI Beamlines
With initial funding from the European Union and local governments, the Extreme Light Infrastructure ELI will be a multi-sited Research Infrastructure for the investigation and applications of laser matter interaction at more than 6 orders of magnitude higher intensities than today's state of the art. https://www.eli-beams.eu/
Job and career opportunities: https://www.eli-beams.eu/en/about/careers/
Hilase
The main goal of the HiLASE project is to develop laser technologies having breakthrough technical parameters. In general, those lasers will be significantly more powerful and efficient, more compact, more stable and more easily maintained than the currently available technology. http://www.hilase.cz/en/
Job and career opportunities: http://www.hilase.cz/en/carrer/
Atlas of Innovation Environment – Profile of the Innovation Ecosystem of the Central Bohemian Region
Central Bohemian Region has a strategically convenient location in the heart of Europe and is one of the most developed regions compared to other regions in Central and Eastern countries. It has long been one of the most economically developed regions in the Czech Republic.
The Central Bohemian Region is also a place with a rapid development of mod­ern research activities in a number of fields, from biotechnology, optics, photonics and nuclear technology; through advanced mate­rials, engineering and the automotive industry; to humanity fields like psychiatry and mental health-care.
Find out all the possibilities that Central Bohemia has to offer:
Investment opportunities in R&D – Atlas of Innovation

Setting up a business
Foreign legal entities are allowed to conduct trade activities, including the acquisition of real estate, under the same conditions and to the same extent as Czech entrepreneurs. They may become founders or co-founders of a company, or may join an existing Czech company.
Find more information here
Coming to Czech Republic
CzechInvest formulated the Welcome Package which has the objective of streamlining the procedure for entry and employment of key foreign workers who need to obtain the necessary permits (residence, work) as quickly and smoothly as possible in connection with the placement of an investment in the Czech Republic. Find more information here.
Visas and Work Permits for investors
Long-term residence for investment purposes is for entrepreneurs who intend to stay in the Czech Republic for longer than 90 days and plan to make a "significant investment" in the country and also for foreign nationals in the management of commercial corporations with a similar plan. Find more information here.
Corporate tax
Corporate income tax is levied on income from the worldwide operations of Czech tax residents and on Czech-source income of Czech tax non-residents. Find more information here
Useful contacts
Find a list of institutions that can provide assistance or further information for investors: here
+420 246 083 190 | info@s-ic.cz